OBF meets Kenny Knots - United We Stand
Par niz le jeudi 15 mars 2012, 14:59:00 - Dub FR
"United We Stand, Divided we fall" l'OBF anthem est finalement dispo en vinyle 12'', mais qu'a-t-il dans le ventre ?
Qui n'a pas chantonné lors d'un retour de soirée cet hymne très souvent joué le crew savoyard ? Cet air, si percussif, ce riddim taillé dans la roche, ce lyric engagé et le fait qu'il est (ou était) fréquemment joué en last tune par OBF ont fait de ce tune un classique. Ce power stepper made in France, est à la hauteur des productions d'un Iration Steppas et est devenu une emblème de OBF. Et presque un an après leur première prod vinyl, les amoureux de hard stepper seront comblés et pourront jouer à loisir ce killer tune.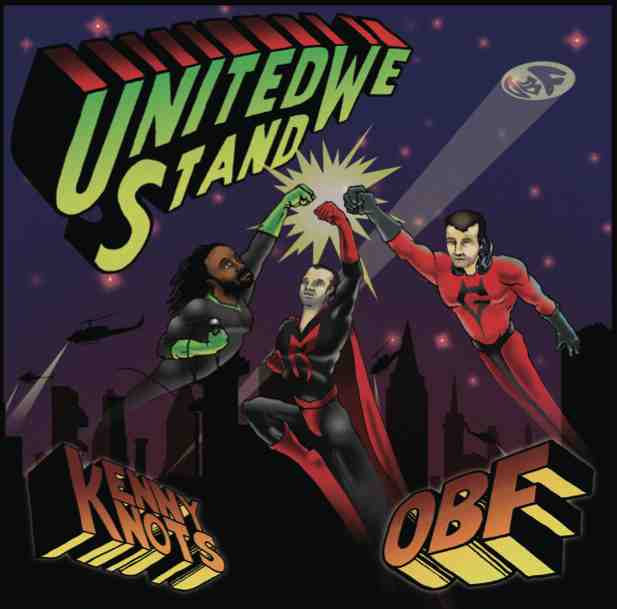 Comme le précédent vinyle sortit sur OBF records, la pochette rappelle le style de Tony Mcdermott (célèbre dessinateur de pochettes pour le label Greensleeves); on y retrouve Rico, Guyohm et Kenny Knots en costume de super héros avec collant moulant et le tutti quanti. Sa réalisation a été confiée à Malik de l'atelier Crache Papier présent dans les locaux de l'Usine à Genève ou les Original Bass Foundation tiennent résidence lors des Dub Quake. Un travail de qualité qui agrémente la galette.


Le premier morceau de la face A est évidement "United we Stand", morceau militant aux lyrics évocateurs "Freedom for the people, Open up the gates, Tear Down the barriers, United We Stand, Divided we fall, You're not gonna know yourself, Until you're back against the wall, Well, rise up people, No time to stall, Rastafari he rules overall"...
Que dire à part que c'est une tuerie !? un super riddim, basique mais acéré, puissant et efficace aux sonorités industrielles et un Kenny Knots qui lâche tout la rage qu'il en lui. Il crache sur le système et interpelle l'auditeur à une union. Entendu des tonnes de fois mais toujours aussi bon. On enchaîne part un dub tout aussi puissant qui partant des lyrics de Kenny Knots s'enfonce dans un coté mystique ou le riddim tient l'auditeur en haleine. Les intenses delay et echo accentue le coté hypnotique, idéal pour un last tune puissante.

La face B est composée de deux part de "Forward Dub" autre classique du crew qui à travers ces deux versions propose des atmosphères assez différentes. La deuxième étant plus sombre et profonde, limite narcotique.


O.B.F ft. Kenny Knots >>> RELEASE SOON from Fabio Manozzi on Vimeo.


Wicked Haffi Run était très attendu et fut sold out assez rapidement mais United We Stand l'était encore plus, du coup il va falloir se dépêcher avant qu'il n'y en ait plus...
Big up OBF et vivement la prochaine sortie en espérant qu'il ne faille pas encore attendre 1 an !